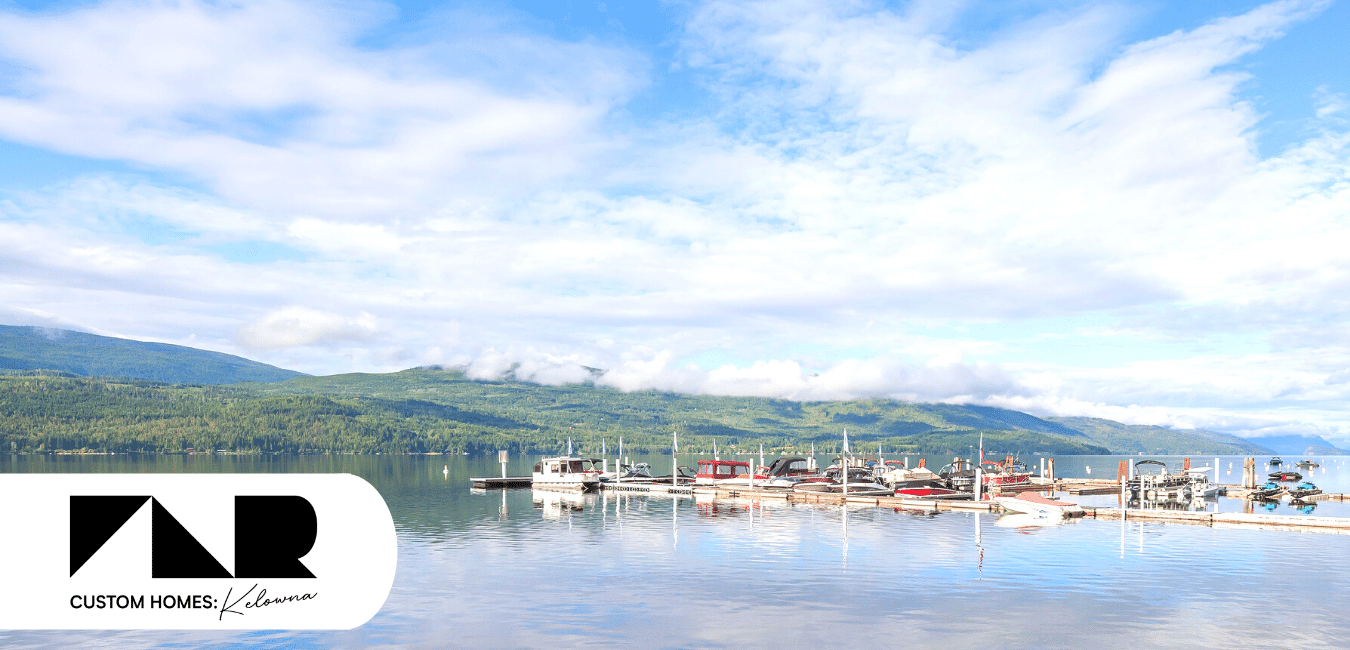 Having a lakefront home in the Shuswap is the ultimate Canadian dream! Those beautiful mountain backdrops that meet crystal clear waters look like a postcard. Not to mention the mild winters and four seasons of activities; from boating to skiing. Many lucky folks get to call this place home and with a custom lake home builder, you could be calling this place home, too!
Whether it is a vacation property, a hybrid vacation/investment property, or your new full time home, the Shuswap lake offers a lakeside lifestyle like no other. With over 310 km² of surface area to explore, the options in this area for a lakefront home are endless! Shuswap Lake consists of four arms, forming a shape like the letter H. The four arms are: Salmon Arm (southwest), Shuswap Arm (west), Anstey Arm (northeast), and Seymour Arm (north). More and more people are flocking to the area in search of an Okanagan home builder to realize the lake life dream and these communities need to be on your radar.
Saint Ives
The community of Saint Ives is tucked away into the sunny, Northernmost part of the Shuswap arm. Surrounded by seemingly unending, breathtaking scenes from the Monashee Mountains and Shuswap highland, this lakefront community delivers big on sandy spots to kick your feet up and enjoy the sun.
Anglemont
Anglemont, BC is a beautiful hillside community that was the last to be developed on the north Shuswap. This community boasts beautiful beaches, the Anglemont Marina for boot moorage and stunning golf courses.
Celista
This hidden gem is located on the northern shore of Shuswap Lake 37 km (23 mi) east of Chase, Hwy 1. It is home to the Celista Estate Winery, world class salmon fishing and a variety of one of a kind restaurants and art galleries.
Scotch Creek
Scotch Creek is the wilderness lovers paradise offering a variety of 4 season activities. Located on the north shore of Shuswap Lake on a stunningly scenic route, it is home to amazing sandy beaches, a convenient boat launch and Copper Island which is a hidden gem hiking destination.
Magna Bay
Magna Bay is another amazing lakeside community in the area that is a camper's, or RVer's paradise. With no shortage of beautiful spots to relax and enjoy, it's no surprise that more and more people are looking to this area to build their one of a kind custom dream home.
The north Shuswap is a slice of paradise and somewhat of a hidden gem for your future custom home development. The possibilities for building your lakefront dream house, small and eco-friendly cabin or future family reunion meetup spot are endless. Long summers and short winters make this the ultimate investment opportunity for either you and your family, your business, or both.
FLR Custom Homes is your reliable and experienced Shuswap Lake custom home builder. Proudly serving the lakeside communities along the Northern Shuswap with a full-service building experience, our team has the ability to take your home from idea to reality. Reach out today to book a consultation by filling out this website form, or by calling 778-721-5791.
Lakeside Custom Home Building FAQ's
Shuswap Lake is one of the largest lakes in the BC interior and attracts people from all over the country and beyond. Choosing to build a lakefront home in this 4-season area with a booming tourism industry, means an excellent return on investment for you, while enjoying the beauty of this world class location.
When deciding to build your dream home on beautiful Shuswap Lake, looking at a traditional builder may limit your choices on customization. Finishes and feature options may be limited, based on knowledge, experience, and supplier relationships. Partnering with a lakefront home builder, like FLR Custom Homes, that specializes in custom homes will open all the innovative, efficient and industry leading features that are available today. Reach out today to book a consultation for your project.
There are a number of custom lake home builders, however not all builders are created equal. A local Okanogan home builder will know the area best and have better relationships with local suppliers while employing locals to conduct the work, furthermore, helping the Okanogan economy. At FLR Custom Homes Kelowna, our owners, Columbia-Shuswap Area Manager, and extensive trades team have been working within the Northern Shuswap Lake area already bringing residents lakeside dreams to reality.
Live The Okanagan Dream
Life in the Okanagan means idyllic lakes, lush orchards, stunning views, endless skies, and the opportunity to live your best life. If you are ready to build the home of your dreams amid the abundant beauty that can be found here, connect with FLR Custom Homes today. Share your vision for your perfect home and together let's make it happen.