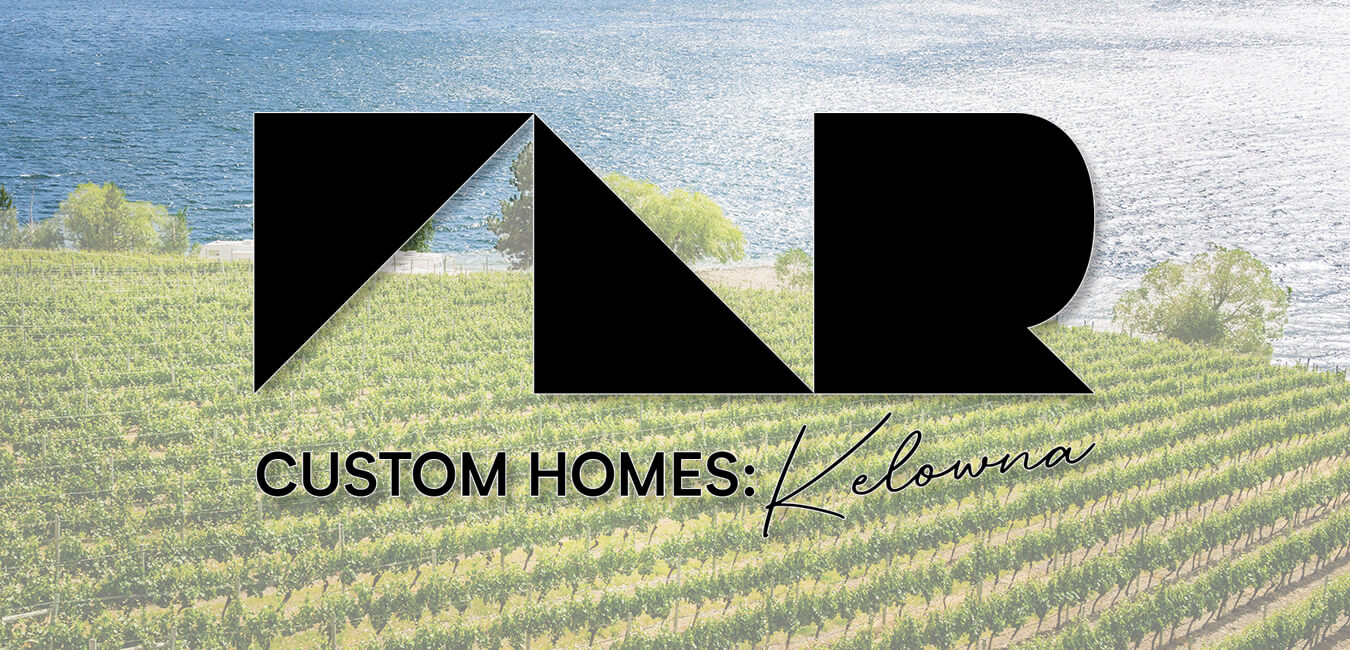 FLR Custom Homes is disrupting the homebuilding industry in Kelowna with an innovative and cutting-edge building approach. With a focus on beautiful design, expert craftsmanship, and finishes of the highest quality- FLR brings an elevated experience to residents seeking to build the home of their dreams in the interior of British Columbia.
Our accomplished team will deliver a fully customized home building experience. Our goal is to bulldoze the standard building experience and sets a new standard for customer experience. We don't think outside the box… we are building a whole new box. FLR Custom Homes Kelowna is the future of homebuilding.
Partners Todd Funk and Aaron LeBlanc envisioned a full-service custom building process that leverages high-quality construction, stunning design, well-planned projects and comprehensive new home warranties. FLR Custom Homes Kelowna was born with a vision to create and innovate to deliver homes that exceed customer expectations and change the landscape of homebuilding. We strive to bring the expertise of our skilled team to guide you every step of the way; from land acquisition, to design, and construction. Our process is so thoughtful and refined that you can choose to be as involved in the process as is suitable for you.
Our Lead Team
Aaron LeBlanc- Aaron has over fifteen years of experience leading cost-recovery and revenue-generating units in the private and public sectors. Aaron ventured into property development building multi-unit residential and commercial projects in Northern BC. His track record of establishing policies, negotiating agreements, and developing products and services that support organizational operations is a benefit to FLR Developments' continued growth and expansion as FLR Custom Homes. Aaron is excited to return to his roots in British Columbia and to share his expertise to bring an elevated building experience to his home province.
Todd Funk- Todd began his career with Desmarais Cabinets, honing his skill as a cabinet installer from 1993-1996. Building on all he learned, he created Aztec Cabinet Design in 1997 and specialized in kitchen renovations. As his experience and industry knowledge grew, he ventured into full-home home renovations and decorative concrete work, founding TQC Developments Inc. in 2007. Todd has continued to grow and improve his skill and acumen developing many impressive projects including the 18,000 sqft Apple Creek Golf Course Clubhouse and a state-of-the-art luxury residence complete with a pool. Todd is eager for the inspiration that the beauty of the Okanagan will bring to FLR's upcoming projects.
Ariel Livingstone- Ariel brings over 23 years of experience in construction and project management to the FLR team. He studied Carpentry at SAIT, specializing in framing and design-build renovations. Ariel has helmed his own company managing diverse residential and commercial developments and has worked with Todd and Aaron directly on Apple Creek, the Multi-Unit Development and the Grand Custom. He brings the expertise of an incredible customer service experience for our clients and is an integral part of our FLR operations in the Okanagan.
Nicole Boneham- Nicole began her career in the Oil and Gas sector working as an administrative professional. Through her background in accounting, administration, customer service, and project management she is able to guide our clients seamlessly through the building process. As the administrative team lead, Nicole is an integral part of our client journey from the initial consultation all the way through to the last trade and document.
Vanessa Asmus- with a background in sales and business development, and post-secondary in Marketing and Management, Vanessa joined the FLR team starting in 2020. Her passion for a thorough and detailed sales experience ensures that all of FLR's clients are delivered through to their project planning phases with all the information and details necessary for an incredible custom home-building journey.
THE FLR Difference
FLR Custom Homes provides an elevated and unparalleled building experience across the Okanagan. Built on the vision of a full-service custom building process that uses only the best in construction methods, and stunningly creative design, our team at FLR is in the business of taking our customers home.
Building a Better Future
The FLR Developments team is committed to building better homes. We incorporate only the best practices into our planning, design and building processes. Our mission is an immersive, client-first, full-service process resulting in high-quality craftsmanship for every home we build, during construction and well into the post-possession experience.
Connect with us for a free consultation by filling out our online contact form below.
Your home is your haven and the dream to create a home that is a reflection of you and completely supports the lifestyle needs of your family is within your reach right here in the Okanagan. The typical FLR Custom Home client is a discerning homeowner. We meet you where you are to build on your dream with the tools, technologies, and a seamless process to create a home that exceeds your expectations. Our commitment to homebuilding with the highest quality materials and finishes, beautiful design, impeccable flow, and function is only made better with thorough aftercare and home warranty program.
Our mission is to ensure a smooth building process based on transparency and excellence in craftsmanship. And the FLR process is so refined that you can choose the journey to home building that suits you best:
Custom Home Experience: You are fully immersed in the process, guided by our expert team to collaborate on every design decision ensuring a completely customized, one-of-a-kind finished home.
Professionally Designed Homes: This journey allows you to leave the process in the hands of our skilled team, collaborating only on the finishes that are the most important to you while building off of our meticulous design plans, giving you a finished home that is spectacular with a detailed twist that is uniquely you.
The beauty of the Okanagan influences each and every home built by FLR. The rolling hills and valleys, the abundant orchards and vineyards, the shimmering lakes, the natural forests, and arid shrublands; all these inform our designs, inspiring us to elevate it with our own take on stunning architecture. FLR is changing the landscape of home buildings in the BC Interior.
Building Relationships One Home At A Time
FLR Custom Homes Kelowna stakes our reputation on our commitment to process transparency and the delivery of a product that exemplifies expert craftsmanship. We strive to ensure that our conscientious guidance of each client on their journey to build their custom home inspires them to become a client for life.
Built On Experience
FLR brings over 5 decades of building experience to the drawing table. Built on a vision to provide a full-service custom building process that incorporates thoughtful construction, and stunning and creative design, we are FLR Custom Homes Kelowna.
Our skilled team of project managers, construction professionals, and client care specialists are here to deliver an elevated customer-building experience and a house you can call home. Connect with us for a free consultation by filling out our online contact form below.
From land acquisition and design, through construction to key handover, FLR is your partner in homebuilding. Whether your journey to create the home of your dreams includes full customization or the personalization of our exceptional designs, we are here to guide you with knowledge, expertise, insight, and transparency. Our passion for exquisite design and our promise to deliver only quality construction means your home will be a reflection of your lifestyle today and continue to be your haven throughout the years. Connect with our team, share your vision, and let's work together to craft the home of your dreams in the idyllic beauty of the Okanagan.
Led By FLR
We are practiced leaders. We lead the industry with quality construction and thoughtful customer service. We lead our clients with personalized, considerate advice and insight and the knowledge needed to bring them home. Here is what the journey to your dream home led by FLR looks like:
This first meeting gives us the opportunity to discuss your goals, priorities, time frame, and budget. We share our philosophy, processes, and methods; you share your vision. Together we'll envision a home that meets your needs now and into the future. This is our chance to interview each other. If we can collaborate to deliver your final goal, it's a match. Also in this meeting, we want to understand what aspects of your custom build are most important to you so we focus your budget where it will be most impactful for you. Our decades of expertise will allow us to advise you so that all of your choices have the most positive impact on the future value of your investment.
This is the fun and creative part of the custom home process; where we begin to lay out your vision of your perfect home. Working closely with designers creates a detailed picture of your dream home begins. We foster collaboration with our project managers to create a construction plan and workflow to carefully execute every aspect of your vision. Before we break ground for your custom home, we complete a thorough and exhaustive final review ensuring that nothing has been overlooked and every facet of your home design has been accounted for and every need and goal for your new home has been included.
Our expert team of competent site managers, skilled craftsmen, conscientious trades, and trusted project partners begin the task of taking the blueprint of your dream and bringing it to life. Our team ensures careful attention to detail at each step guaranteeing that the quality standards of FLR's custom homes are always incorporated.
This is where we shine. One of the great advantages of buying a new home is the third-party warranty. Our home warranty program protects you and ensures that every part of your home is accounted for and executed meticulously. We have a team of expert trades on staff that you will forever have access to as part of our preferred client program.
Our team of architects, designers, craftsmen, and construction professionals are changing the landscape of the Okanagan, bulldozing the standard building process, and setting a new standard for customer experience. We don't think outside the box… we are building a whole new box. FLR Custom Homes Kelowna is the future of homebuilding.
Live The Okanagan Dream
Life in the Okanagan means idyllic lakes, lush orchards, stunning views, endless skies, and the opportunity to live your best life. If you are ready to build the home of your dreams amid the abundant beauty that can be found here, connect with FLR Custom Homes today. Share your vision for your perfect home and together let's make it happen.