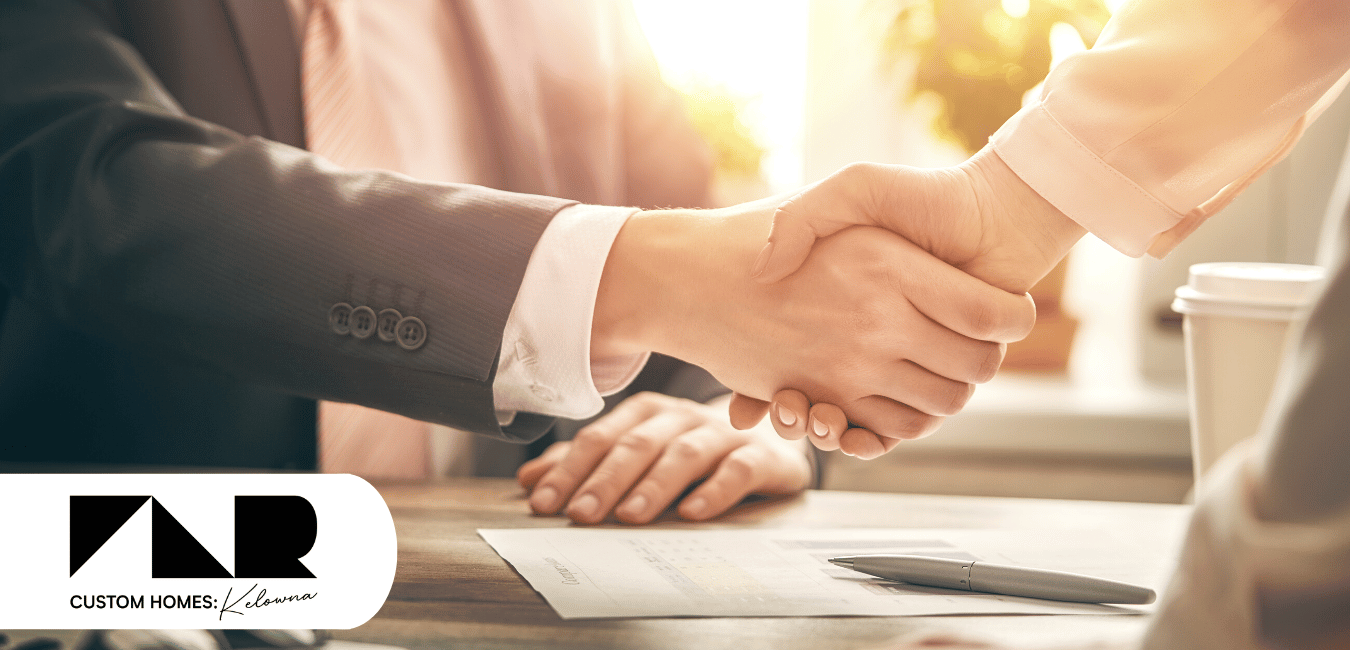 There are a lot of builders in the Okanagan to choose from, and it's imperative that this decision should not be left up to chance. When deciding who to work with, you should consider several important factors before signing on the dotted line. Here are nine tips to help you choose the best custom home builder for your custom home.
9 Things to Know Before Choosing Your Custom Home Builder
Before picking who will build your dream home, be sure to consider the following to ensure your expectations line up with your contractors:
Experience. Look to partner with a builder with the track record to deliver you a beautiful, high-quality home. When discussing the most significant purchase many people make in their lifetime, it's essential to know your investment is in capable hands.
Reputation. Google reviews are telling, but what can reveal even more is asking your builder for references. Call and see how past clients feel 1, 5, and 10 years after completion.
Craftsmanship. Ask your custom home builder to see some of their projects that are currently underway. This will give you a behind-the-scenes look into their craftsmanship, standards, site safety, and cleanliness.
Customizations. Many people don't understand the difference between a custom home builder and a general builder. When creating your dream home from scratch, it's important to know that you're working with someone who can deliver precisely what you're looking for, not a premade plan.
Communication. In the middle of your build, you don't want to chase down a contractor busy with multiple projects and clients. Does your builder have an in-house project manager? Is the project tracked in a virtual platform? Who is your main point of contact? How often will I receive updates? All these questions need to be answered before you decide who to work with.
Credentials. Before choosing the best Kelowna Builder for your project, ask if they're insured, covered by WCB, and offer a reputable third-party home warranty coverage. Approval from a home warranty provider speaks highly of their company and quality.
Pricing. Discuss the budget and pricing in detail with the builder. Beware of builders who provide lowball estimates or try to cut corners, which may lead to hidden costs or poor-quality construction.
Timelines. Inquire about the builder's project management approach, including timelines, milestones, and construction schedules. A builder with a well-defined process and a realistic completion timeline will help you plan your move-in date more effectively.
Energy Efficiency. If sustainability and energy efficiency are important to you, inquire about the builder's green building practices and their commitment to using eco-friendly materials, energy-efficient systems, and sustainable building techniques.
FLR Developments: Your Premier Kelowna Custom Home Builder
At the end of the day, you want to choose a builder who is honest, transparent, and professional. A builder who values integrity and has a good reputation in the industry is more likely to provide a positive building experience. By carefully considering these factors, you can select a reputable and reliable custom home builder who will bring your dream home to life. FLR Developments is your trusted custom home builder in Kelowna. Contact our team for a complimentary consultation if you want to bring your dream home to reality.
Live The Okanagan Dream
Life in the Okanagan means idyllic lakes, lush orchards, stunning views, endless skies, and the opportunity to live your best life. If you are ready to build the home of your dreams amid the abundant beauty that can be found here, connect with FLR Custom Homes today. Share your vision for your perfect home and together let's make it happen.