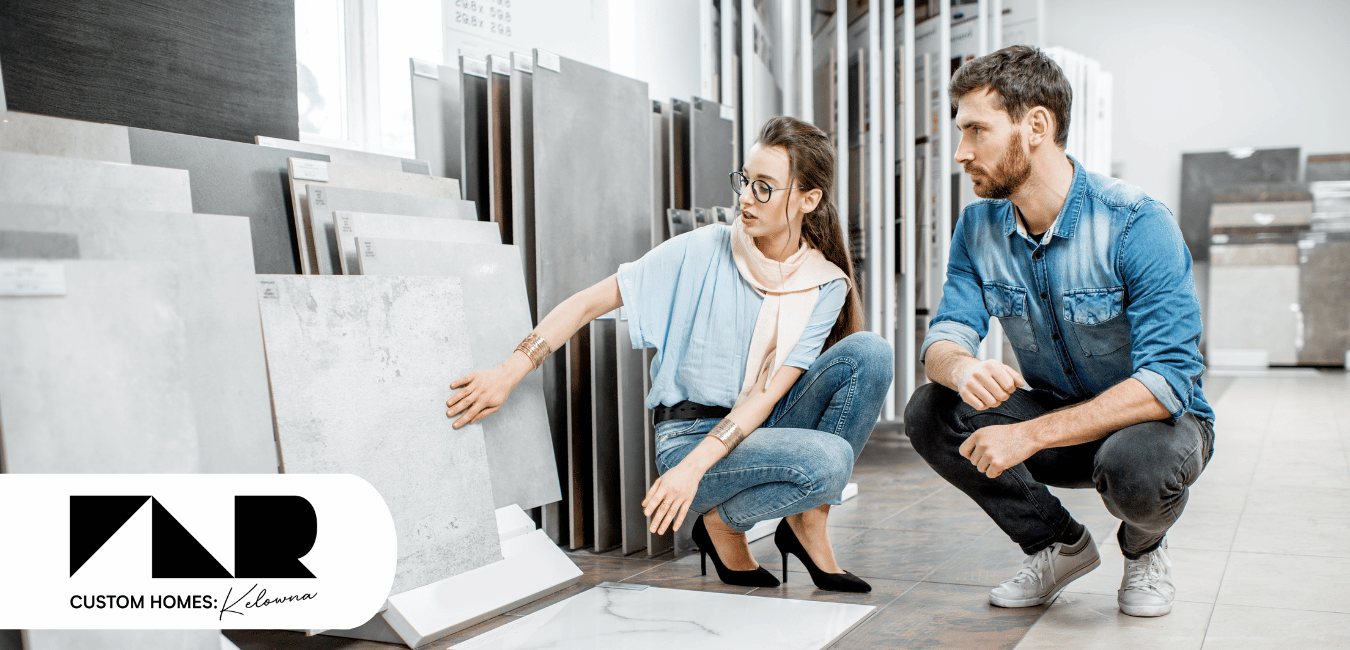 Are you dreaming of, or currently planning, a custom home in Kelowna? If so, this checklist will give you some insight into the many interior decisions that you will need to make during the design and planning phase. These early planning details are incredibly important to ensure you end up with a beautiful, and highly functional home, and the best custom home building in Kelowna will ensure that no detail is overlooked. From the placement of electrical outlets and light switches to choosing your bathroom towel bars, use this handy guide to start your Pinterest and Houzz planning journey!
Planning a Custom Home in Kelowna: Your Interior Design Checklist
Flooring Material: Choose from options like hardwood, tile, carpet, or laminate.
Colour and Finish: Decide on the colour and finish for your floors.
Room Transitions: Plan for smooth transitions between different flooring materials.
Paint and Wall Coverings: Select paint colours or wall coverings for each room.
Wall Texture and Finish: Decide on the wall texture, whether it's flat, satin, or textured.
Accent Walls: Consider creating accent walls or unique wall treatments such as shiplap.
Ceiling Finish: Choose the finish for your ceilings. Do you want to add any accent or exposed beams?
Crown Moulding: Decide on crown moulding or other ceiling details.
Ceiling Lighting: Explore lighting options like recessed lights or chandeliers.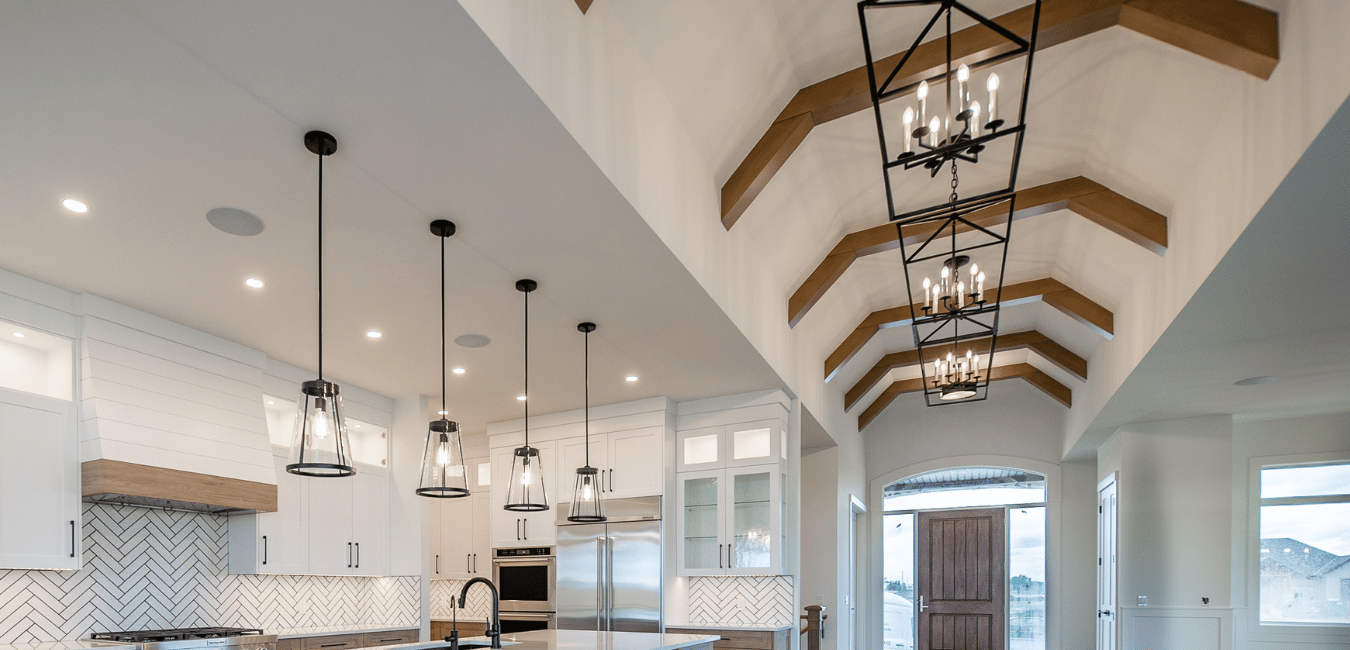 Interior Doors: Select door styles and materials, including options like solid wood or glass.
Window Styles: Choose window styles, types, and treatments like curtains or blinds.
Kitchen Cabinets: Decide on the style, material, and finish of kitchen cabinets.
Bathroom Vanity: Choose the style and finish for your bathroom vanity.
Built-In Cabinetry: Consider built-in cabinetry for areas like entertainment centers or a home office.
Countertop Material: Select materials like granite, quartz, or marble for kitchen and bathroom countertops.
Edge Profiles: Decide on countertop edge profiles, or perhaps a waterfall countertop.
Plumbing Fixtures: Choose plumbing fixtures for kitchens and bathrooms, including faucets, sinks, and showerheads.
Light Fixtures: Select light fixtures such as pendant lights, sconces, or ceiling fans.
Cabinet Hardware: Decide on the desired cabinet hardware- do you prefer handles or knobs?
Kitchen Appliances: Select appliances like the refrigerator, oven, and dishwasher.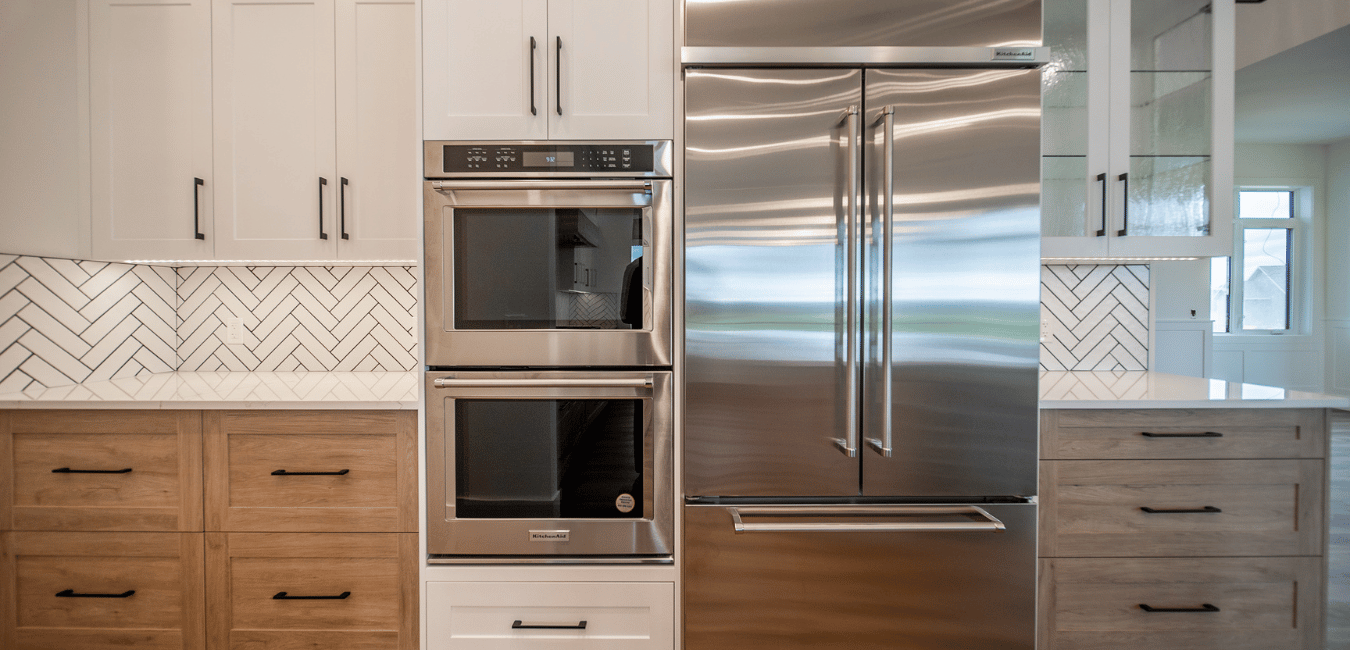 Laundry Room Appliances: Choose appliances for the laundry room, including a washer and dryer.
Fireplace Type: Decide on the type of fireplace, such as gas, wood-burning, or electric.
Fireplace Surround: Choose a design for the fireplace surround and mantel.
Staircase Design: Plan the design and materials for your home's staircase.
Railing Style: Decide on the style and finish of railings such as glass, iron, or wood.
Closet Organization: Select closet organization systems and shelving.
Closet Doors: Choose wardrobe and closet door styles.
Shower and Bathtub: Decide on materials and design for showers and bathtubs.
Tile Selections: Choose tiles for bathroom walls and floors.
Vanity Mirrors: Select vanity mirrors and medicine cabinets.
Backsplash Material: Choose material and design for the kitchen backsplash.
Grout Color: Decide on the grout color for the backsplash.
Baseboards and Crown Moulding: Choose styles for baseboards and crown moulding.
Wainscoting: Consider wainscoting or beadboard in certain areas.
Floor Vents: Consider the placement and style of floor vents.
Electrical Outlets: Decide on electrical outlet placement and style. Think about how you plan to use them throughout the year for charging stations and holiday accents.
Exhaust Fans: Select bathroom and kitchen exhaust fans.
HVAC Venting: Plan venting options for HVAC systems.
Special Features: Consider any special features like built-in bookshelves, niches, or window seats.
Accessibility Features: If needed, make decisions regarding ramps, wider doorways, and other accessibility features for aging in place.
Kelowna's Best Custom Home Builder: FLR Developments
Although a lengthy list, do not let this overwhelm you. When planning your home with our team you can rest assured that every single detail is considered by our experienced planners, designers and project managers. We use industry-leading planning software, backed by decades of hands-on experience, to ensure that no facet of your home is left up to chance. If you would like to know more about our comprehensive, cost and headache-saving planning process, contact us for a complimentary consultation.
Live The Okanagan Dream
Life in the Okanagan means idyllic lakes, lush orchards, stunning views, endless skies, and the opportunity to live your best life. If you are ready to build the home of your dreams amid the abundant beauty that can be found here, connect with FLR Custom Homes today. Share your vision for your perfect home and together let's make it happen.