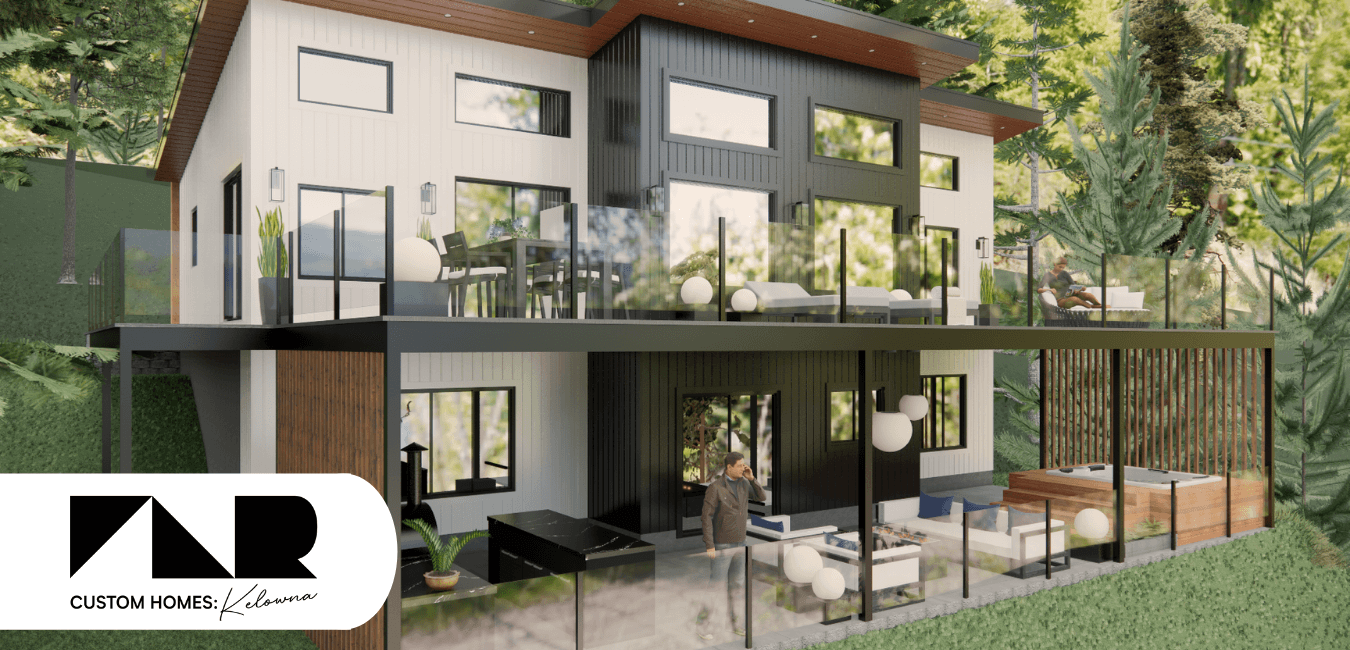 Welcome home to Shuswap Lake with a view! Lakefront living in the serene Okanagan can be yours with our latest project in Anglemont, BC. This 4 bedroom, 2.5 bathroom home is sure to deliver on whatever your imagination brings to the table. Best of all? Construction is underway and you can slide into this stunning home in 2021. Reach out to our team to see photos of the unbelievable lot views...
The sooner you make this home yours, the sooner you can begin working on the finishing touches with our design team. Don't wait, this gorgeous modern lake home will not last long!
Lakeview Living in the Shuswap
Your Professionally Designed Custom Home by FLR
Just steps from Shuswap lake, this Professionally Designed Home at 7750 Golf Course Road allows you to get into a custom home by FLR faster than ever before. This stunning lot, and 2500 ft2 home, hits all the marks:
The master bedroom on the main floor has amazing lake views, a walk in closet, and stunning 5-piece ensuite.
Your custom kitchen has a built in wine rack and all the amenities you could ever want to host and entertain- all waiting for your specifications.
With over 1600 ft2 of deck space on two levels ensures you can enjoy your lake views with guests, or alone with a good book.
The lower level offers up plenty of bedrooms, and space for a rec room, wet bar, or whatever else you imagination allows.
Don't forget the second lower level patio to maximize every inch of beautiful outdoor enjoyment.
This beauty won't last long. Reach out to our team today to get all the details, floor plans and to get the ball rolling on colours and customizations!
THE FLR Difference
FLR Custom Homes provides an elevated and unparalleled building experience across the Okanagan. Built on the vision of a full-service custom building process that uses only the best in construction methods, and stunningly creative design, our team at FLR is in the business of taking our customers home.
Building Relationships One Home At A Time
FLR Custom Homes Kelowna stakes our reputation on our commitment to process transparency and the delivery of a product that exemplifies expert craftsmanship. We strive to ensure that our conscientious guidance of each client on their journey to build their custom home inspires them to become a client for life.
Led By FLR
We are practiced leaders. We lead the industry with quality construction and thoughtful customer service. We lead our clients with personalized, considerate advice and insight and the knowledge needed to bring them home. Here is what the journey to your dream home led by FLR looks like:
This first meeting gives us the opportunity to discuss your goals, priorities, time frame, and budget. We share our philosophy, processes, and methods; you share your vision. Together we'll envision a home that meets your needs now and into the future. This is our chance to interview each other. If we can collaborate to deliver your final goal, it's a match. Also in this meeting, we want to understand what aspects of your custom build are most important to you so we focus your budget where it will be most impactful for you. Our decades of expertise will allow us to advise you so that all of your choices have the most positive impact on the future value of your investment.
This is the fun and creative part of the custom home process; where we begin to lay out your vision of your perfect home. Working closely with designers creates a detailed picture of your dream home begins. We foster collaboration with our project managers to create a construction plan and workflow to carefully execute every aspect of your vision. Before we break ground for your custom home, we complete a thorough and exhaustive final review ensuring that nothing has been overlooked and every facet of your home design has been accounted for and every need and goal for your new home has been included.
Our expert team of competent site managers, skilled craftsmen, conscientious trades, and trusted project partners begin the task of taking the blueprint of your dream and bringing it to life. Our team ensures careful attention to detail at each step guaranteeing that the quality standards of FLR's custom homes are always incorporated.
This is where we shine. One of the great advantages of buying a new home is the third-party warranty. Our home warranty program protects you and ensures that every part of your home is accounted for and executed meticulously. We have a team of expert trades on staff that you will forever have access to as part of our preferred client program.
An Elevated Experience On Every Build
FLR Custom homes has created an equalled custom building customer experience streamlined with the knowledge, skills, and proficiency garnered over 5 decades in home building. We bring this elevated level of service to each project we collaborate on from the most elaborate and extensive Custom Estate build, through Custom Infills, Lakefront Developments, and Professionally Designed Homes, to the most simple and modest Carriage Home. And always with an eye to advancing sustainability.
Our team of architects, designers, craftsmen, and construction professionals are changing the landscape of the Okanagan, bulldozing the standard building process, and setting a new standard for customer experience. We don't think outside the box… we are building a whole new box. FLR Custom Homes Kelowna is the future of homebuilding.
Live The Okanagan Dream
Life in the Okanagan means idyllic lakes, lush orchards, stunning views, endless skies, and the opportunity to live your best life. If you are ready to build the home of your dreams amid the abundant beauty that can be found here, connect with FLR Custom Homes today. Share your vision for your perfect home and together let's make it happen.