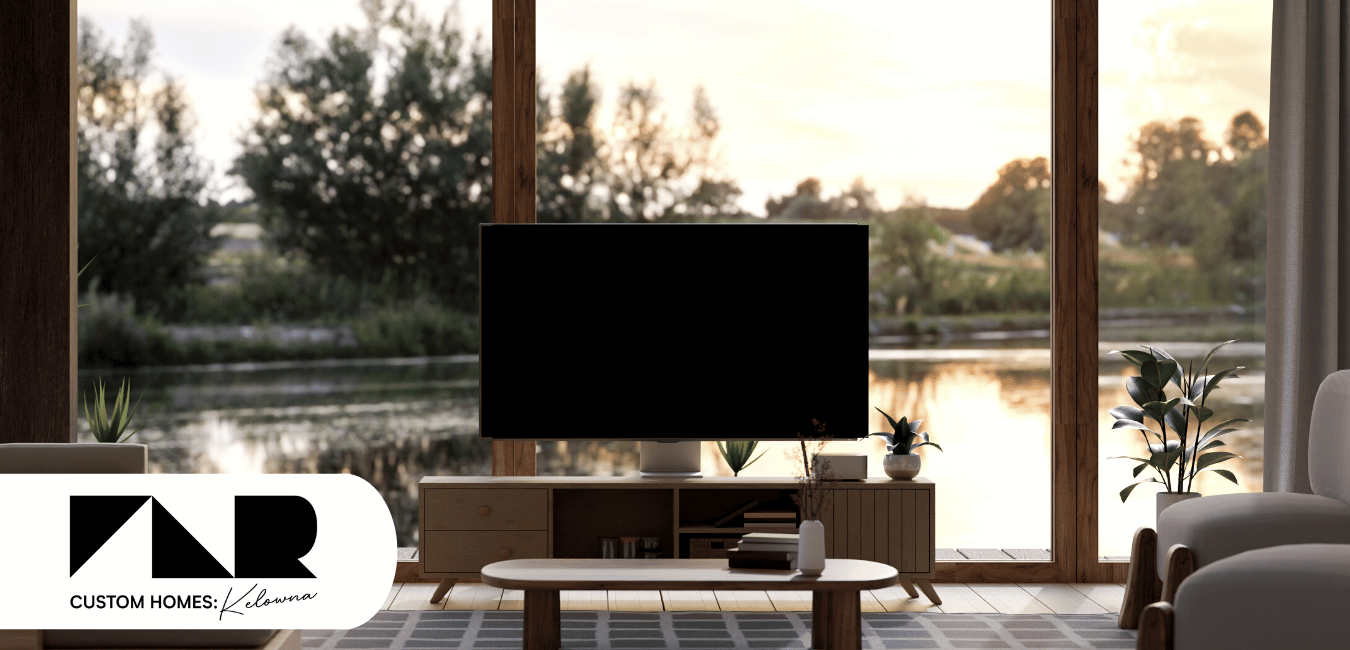 When it comes to design, lakeside homes often incorporate features that capitalize on the natural beauty of the surrounding lake environment while providing comfort and functionality. Here are some popular 2023 design features of lakeside homes.
FLR Developments Kelowna: Your Custom Lakefront Home Builder
Large Windows and Panoramic Views:

Lakeside homes often feature large windows that offer panoramic views of the lake and surrounding scenery, allowing natural light to flood the interior spaces, and creating a seamless connection between the indoors and outdoors, maximizing water and landscape views.
Outdoor Living Spaces: Lakeside living is often associated with outdoor activities, and lakeside homes often include well-designed outdoor living spaces such as decks, patios, and screened porches.

Natural Materials and Earthy Colors:

Lakeside homes often use natural materials and earthy colour palettes to blend harmoniously with the surrounding environment. Wood, stone, and other similar materials are commonly used in lakeside home design to create a warm and inviting atmosphere that complements the lake's natural beauty.

Boathouse or Dock:

A boathouse or dock can be a popular design feature in lakeside homes, providing a convenient and functional space for storing boats, kayaks, and other watercraft. Boathouses or docks can also serve as additional outdoor living spaces, with seating areas, decks, or rooftop decks for panoramic lake views.

Open Floor Plans:

Open floor plans are often favoured in lakeside homes, as they allow for easy flow between indoor and outdoor spaces and maximize the views of the lake from various areas of the house. Open floor plans also create a sense of spaciousness and facilitate socializing and entertaining.

Stone Fireplaces or Fire Pits:

Indoor stone fireplaces and outdoor stone fire pits can be popular design features in lakeside homes, providing warmth and coziness during cooler seasons and creating a focal point for gathering and relaxation.

Nautical or Rustic Decor:

Lakeside homes often feature nautical or rustic decor elements that evoke a sense of lakeside living. This can include ropes, anchors, driftwood, and other nautical or rustic-inspired furnishings, decor, or artwork that add character and charm to the home.

Sustainable Design:

Lakeside homes may incorporate sustainable design elements that align with the natural surroundings and promote environmental conservation. This can include energy-efficient windows, solar panels, and other eco-friendly construction materials that reduce environmental impact and provide long-term cost savings. See FLR Developments articles on building net zero eco-friendly homes here and here.
Multi-Level or Tiered Design: Lakeside homes on sloped lots often incorporate multi-level or tiered designs to take advantage of the natural topography and maximize the views of the lake from different vantage points. This can include terraced gardens, elevated decks, or multi-level interior spaces that add interest and uniqueness to the home.

Flexible Living Spaces:

Lakeside homes may incorporate flexible living spaces for different uses and activities, such as home offices, guest rooms, or recreational areas. Flexible living spaces allow for versatility in how the home is used, catering to the changing needs and preferences of the homeowners.
Kelowna's Best Custom Home Builder: FLR Developments
It's important to note that design preferences for lakeside homes can vary greatly depending on personal taste, location, and budget. When designing a lakeside house, it's essential to consider specific site conditions, local building codes, and individual preferences to create a home that meets your unique needs and enhances your lakeside living experience. Our team will move through planning and design with you to ensure you have a space you will love. Reach out to book a consultation by calling 778-721-5791 or sending your information through a contact form.
Live The Okanagan Dream
Life in the Okanagan means idyllic lakes, lush orchards, stunning views, endless skies, and the opportunity to live your best life. If you are ready to build the home of your dreams amid the abundant beauty that can be found here, connect with FLR Custom Homes today. Share your vision for your perfect home and together let's make it happen.